During an emergency
Location of bus entrance/exit, emergency exit, and hazard lights switch.
At all times other than an emergency, passengers must not operate the bus entrance/exit, emergency exit, or driver's seat switches.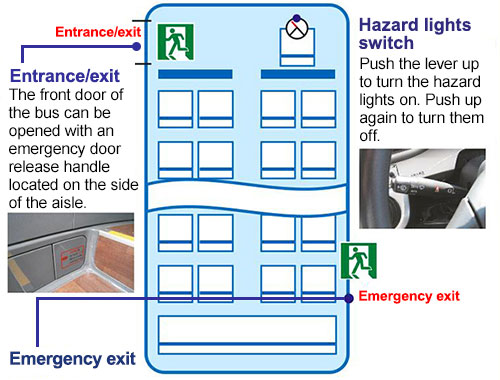 Operational instructions are written on the red cover next to the emergency exit (an alarm will sound when the cover is removed). Please follow the instructions as methods of operation differ for each type of bus.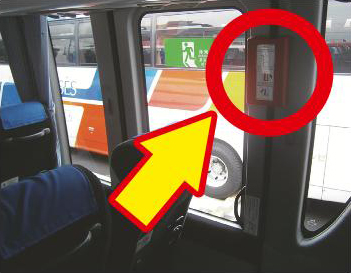 The emergency exit looks like this when the door is open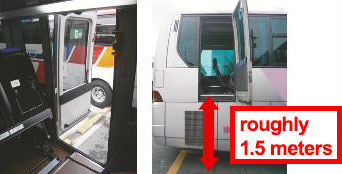 There is a drop of roughly 1.5 meters.
Watch out for oncoming traffic!
Please do not hesitate to inform the conductor at any time if you feel unwell.
Please calmly follow the instructions of the conductor in the event of an emergency.
Passengers are kindly requested to perform the following, wherever possible, if the conductor is unable to issue instructions or request assistance because of injury or otherwise.
Help take care of the injured.
Contact the fire/ambulance/police departments.
The expressway is dangerous—please do not disembark the bus without good reason.
If you need to flee from the bus due to fire or other reason, please be sure to check the safety of your surroundings, paying particular attention to oncoming traffic. Please move quickly to a safe place on the outside of the guard rail.
If possible, please turn on the bus hazard lights.
---
Emergency Driving Stop System
Some buses are equipped with the Emergency Driving Stop System (EDSS). In the event of an emergency, such as the driver suddenly falling ill, an emergency brake button can be pressed to decelerate the bus and bring it to a stop.
EDSS - Overview
If you notice an abnormal change in the driver's condition

Press the emergency brake button


The emergency brakes will be applied
The bus will gradually decelerate and come to a stop
An alarm will sound inside the bus / Red lights at the front of the luggage racks will start flashing
The horn will sound outside of the bus / The brake lights and hazard lights will start flashing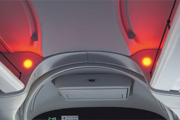 Important
Pressing the emergency brake button when there is no emergency concerning the bus driver is extremely dangerous.
Please ensure that your belongings are not obstructing the view of the red lights at the front of the luggage racks.
Emergency Contacts
Fire and ambulance : 119
Police : 110